m

 

(5 intermediate revisions by the same user not shown)
Line 1:
Line 1:
−

[[File:Placeholder|right|300px]]

+

[[File:||300px]]

 
+
−

Write the text of your article here!

 
 
+
 
+

[[Dominic]] and [[Brett]] do Random things around the house. Will the age of Random ever stop?

 
+

=='''Synopsis'''==

 
+

Brett makes an unexpected visit to Dominic's house. This video contains very short skits and some short clips like [[Total Randomness 1]]. The Dominic twins appear in this video for the very first time. Besides Brett, there are no new characters added to the show. There are no bloopers or repeated clips in this episode.

 
+

=='''Character Appearances'''==

 
+

*[[Dominic]]

 
+

*[[Brett]]

 
+

=='''Trivia'''==

 
+

*From this moment on, the Dominic twins appear every two videos.

 
+

*The scene where Dominic lifts his hand slowly took many tries to do without laughing.

 
+

[[File:Total Randomness 2|thumb|300px|right]]
---
Latest revision as of 23:57, 11 May 2012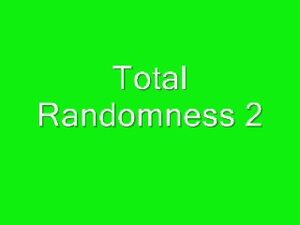 Dominic and Brett do Random things around the house. Will the age of Random ever stop?
Synopsis
Brett makes an unexpected visit to Dominic's house. This video contains very short skits and some short clips like Total Randomness 1. The Dominic twins appear in this video for the very first time. Besides Brett, there are no new characters added to the show. There are no bloopers or repeated clips in this episode.
Character Appearances
Trivia
From this moment on, the Dominic twins appear every two videos.
The scene where Dominic lifts his hand slowly took many tries to do without laughing.