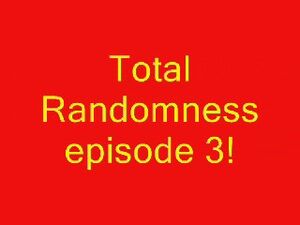 The world of Randomness continues with new faces and places. You haven't seen anything yet.
Synopsis
Dominic, Tyler, and Mallory do strange things around the town. This marks the first appearances of Captain Observative, The Ninja, and Mallory Montanna. Like those before it, this video contains short clips and repeated scenes at the end of the video. There are also no bloopers in this episode.
Character Appearances
Trivia
This remains as Dominic's least favorite episode of Total Randomness.
The Dramatic Prarie Dog appears in this video, as well as all the others (except Total Randomness 7).
The picture Dominic refers to as "little baby Dominic" is actually Mallory.
This video has been mentioned multiple times throughout the Dominic Produtions and Total Randomness Series.