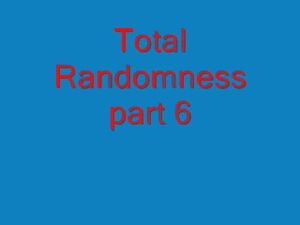 Dominic and friends have another day filled with randomness. New characters and skits are revealed at last.
Synopsis
Being one of the last videos of Total Randomness, this video sets itself a-part from previous videos. New characters like: Bob Willikers, and The Spy make their first appearance in this episode. There are still short clips, but their are also some skits that take up a large portion of the video. Their are no repeated scenes, but there are some bloopers.
Character Appearances
Trivia
This is the first video to contain bloopers.
This video contains scenes that appear in Total Randomness 7!